Chiropractic Care
The central nervous system controls the entire human body, and any issue within this system can get in the way of appropriate communication between the brain and the rest of the body. As a chiropractic clinic, our job is to find and correct these repeat interferences, also known as subluxations, that are preventing your body from functioning optimally. How do we do this, you might ask? By taking a look at your health history as well as your current condition, we can determine the source of your discomfort and remove blockage with specific chiropractic adjustments.
Our Approach
Precision Healthcare Center uses a variety of highly-effective adjusting techniques to help improve spinal biomechanics and reduce nervous system interference. Based on our clinical judgment and years of experience, we most commonly rely on Cox Flexion Distraction, Thompson Technique, Activator Methods®, and Diversified Technique.
Diversified Technique
After identifying which vertebrae have lost ideal motion of position, Diversified Technique requires the delivery of a specific, manual thrust to free spinal joints that are otherwise locked in place.
Cox Flexion Distraction
This technique partners with a special table that places tractions on the spine, opening up the spacing between spinal vertebrae and relieving unwanted pressure on the spine.
Read more about Cox Flexion Distraction »
Thompson Technique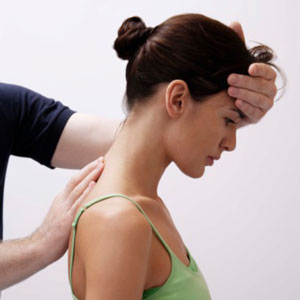 Similar to Cox Flexion Distraction, Thompson Terminal Point Technique is a system of analysis that relies on a drop table to reduce the amount of energy needed to adjust the spine.
Read more about Thompson Technique »
Activator Methods®
This is a system of spinal evaluation combined with the support of a handheld adjusting instrument that delivers a consistent, low-force thrust.
Read more about Activator Methods® »
Although we most commonly perform the above adjustment techniques, we are also trained in Sacro-Occipital Technique, the Gonstead System, Active Release Technique, the Toggle Recoil technique, and the Pierce Results System. Our chosen methods allow us to cater to the needs and comfort level of the individual patient.
Your Comfort First
Prior to your chiropractic adjustment, Dr. Tejada will provide you with a detailed explanation of upcoming care. If you are uncomfortable, we can discuss a more fitting approach. Be sure to communicate any questions or concerns you might have during this time. We are glad to accommodate you during your visit!
CONTACT US »

Chiropractic Care | (630) 375-9444